Grandmas All Natural Soap
Regular price
Sale price
$15.99 USD
Unit price
per
Sale
Sold out
Low stock: 4 left
Organic Irish Oatmeal Handmade Soap with Mango Butter
Our Oatmeal bath soap is great for all skin types. Recommended for sensitive skin, one of our top selling soap.  Don't be fooled by commercial grade
imitations! This soap is the real thing. This soap is left unscented and contains ground and whole organic oatmeal which serves as a great exfoliate, we add mango butter  which is extracted from the seed kernels of the lush and juicy tropical mango fruit.
 Mango butter has been traditionally used in the Rainforests and tropics for it's skin softening, soothing, moisturizing, then we add avocado oil which makes this soap soft, creamy and lots of lather. Oatmeal contains Polysaccharides which soften and protect your skin. Grown by organic farmers it contains no harmful or irritating chemicals.
Product Features 
Helps relieve

 

acne, oily skin

 

Works against premature facial lines and wrinkles
We use Organic high-quality oats based on an old family soap recipes.
Ingredients: 
Organic Olive Oil , Coconut Oil (Organic), Palm Oil Sustainable, Avocado Oil , Mango Butter , Organic Irish Oatmeal .
Materials

We are Handcrafted in small batches with natural botanicals and essential oils .

We offer a few different Specialty rare collection of soap sand a few rare ingredients from the Rainforest . Buriti oil, marula oil, coffee oil, cupuacu butter, organic unrefined African Shea butter, Brazilian nut butter and a variety of natural clay's to name a few. All our milk comes from a local North Carolina farm. Olive oils comes from Greece , Italy, Spain and of course the good old USA .
Shipping & Returns

Grandma's Natural Handcrafted Soap - Same Day Shipping On Orders Placed By 11:00 AM Eastern Time.
Dimensions

Our Regular Natural Handcrafted Soap Bars are 7 ounce .
Care Instructions

Simply place bars on a bar dish with drainage for daily in-shower use. Keep bars away from spraying and pooling water, or store outside of shower.
Share
View full details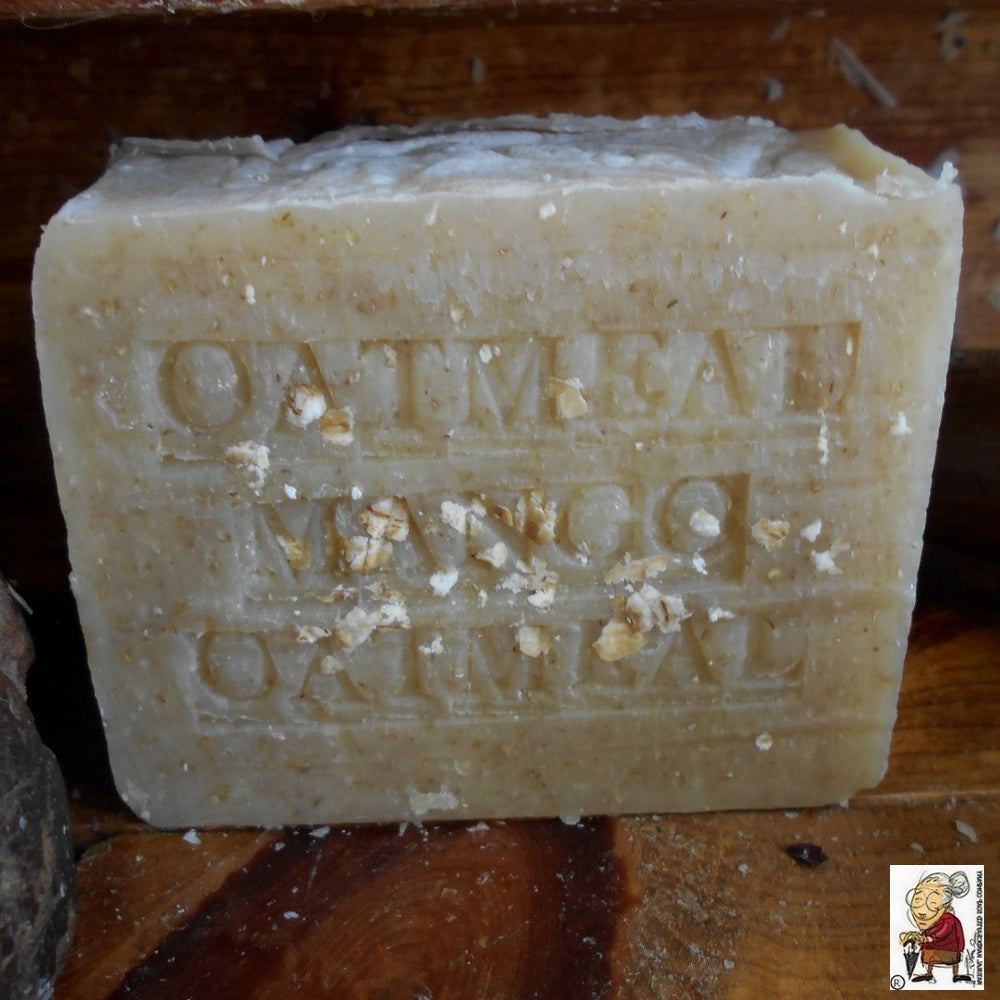 Grandma's old fashioned soaps - Est.1917
Grandma's All Natural Handmade Handcrafted Artisan Soaps
All natural artisan handmade (skin care soaps). They are all crafted using natural herbs, spices & clay's .Our dead sea mud and volcanic ash come right from the source for wonderful skin care . These completely natural Artisan soaps contain no artificial colors , all out goats milk, cow milk, and buttermilk all come from our local farm, " Cant get much fresher than that" 100% all Natural Dead Sea Mud is extracted from the Dead Sea in Jordan. It contains a high amount of minerals and salts, minerals that the skin needs in order to help it remain hydrated and healthy. This high concentration of minerals and salts are due to the Dead Sea evaporating every year as long as it is not connected to other bodies of water. The salts and minerals which are present in the water in high amounts are absorbed into the mud which lies at the bottom of the sea. This mud is extracted and the impurities are removed. It is then packaged and sold. The minerals that help the skin maintain the correct moisture levels are magnesium, calcium, potassium, sodium and bromine.

Our Olive oil is organic extra virgin imported from a friends olive farm in Greece , Olive oil is the main carrier oil in all our soap. This year it won 2018 GOLD medal at the NY International Olive Oil Competition.

Our Handcrafted Handmade Natural Artisan Beautiful Soap is made in small batches using a cold process.. We select the highest quality pure oils from around the world. We also use rich butters and other rich oils to enhance the moisturizing capabilities of the soap. All our soaps cure anywhere from 2 months to 2 years..